Artist Deconstructs the Currency of Culture
Originally Published in Connect Savannah
By: Jessica Leigh Lebos
ULTIMATELY, it all comes down to the little porcelain monkey.
The ghost-faced creature with simian features peering out from the promotional materials for artist Alexandro Santana's multimedia installation "Numismatic" figures prominently in the show itself. However, dialing in on its significance can be as circuitous as, well, chasing a monkey.
But it's worth keeping up.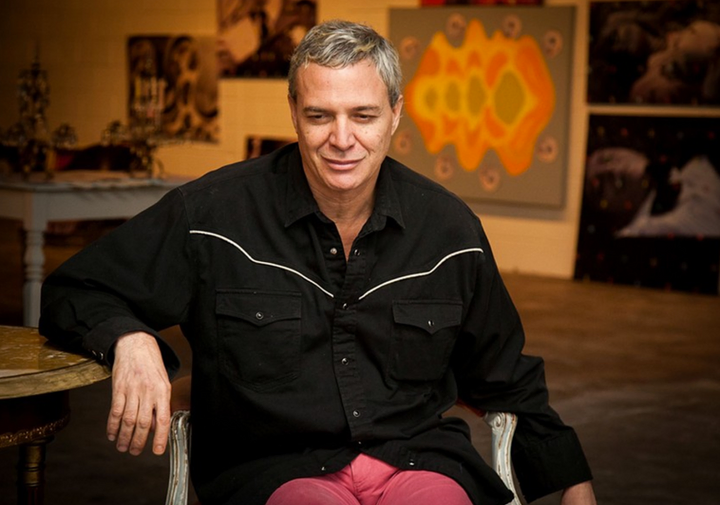 He imbues his work with a calculated complexity fed by a lusciously-hued aesthetic, an international upbringing (Spain and the Dominican Republic, mostly) and an affinity for obscure postmodernist French philosophers.
Eccentric, charming, flamboyant and fashionable, Santana has been a fixture on the Savannah art scene since his arrival in 1993, parlaying his double degree in architecture and fine arts from the Rhode Island School of Design into first a design career then as a full-time painter.
Following a creative lodestar that has led from classical technique to abstract relief to beyond the confines of the canvas, Santana reinvents himself every few years.
While he contributes regularly to group exhibitions (most recently the Flannery O'Connor Childhood Home Art Benefit and Sulfur Studios' "Modern Celebrity"), his last solo show was in 2013. Those expecting to see the wildly-colored, subtly sexual abstract creations of "Lollipop" were in for a surprise with "Numismatic," which debuted at a former car wash-turned-temporary gallery space at 421 Jefferson Street last Saturday.
Employing the artist's latest skill acquisition of videography and filmmaking, the work is more explicit in its intention and more demanding in its intellect, questioning the meaning of art, identity and reality itself.
"Numismatics is the study of currency, paper money and the like, but what currency represents is value," explained Santana a few days before the show, the garage's bay doors rolled open to the morning rain.
"This show is about the entrenched cultural codes around gender, sexuality, and identity and how their value is arbitrarily chosen."
The installation features 20 videos that have been looped and collaged with original camerawork, old film noir clips and found footage that hold up traditional roles and assumptions in order to shred them.
The images are sometimes comedic and often confounding, skewering our collective clichés.
"The guy in the jacket is the boss, the lady in the fluffy dress is the whore—all of these codes of behavior are being questioned and deconstructed," he continues with a thoughtful drag off a cigarette.
"If we stop trusting them and present them as pure aesthetic and artistic information, we can reinterpret them and question their validity."
Echoing the videos being projected onto the blank concrete block wall are about a dozen paintings—surrealistic stills captured from the films then stretched over large canvases and painted with "tutti-frutti"-colored letters, an alphabet soup of absurdity meant to further disrupt passive social norms around texted language.
"We stare into these little black boxes, looking at letters all day," exclaimed Santana, who still uses a flip phone. We've lost the ability to look at things as they really are."
The Dadaesque scope of "Numismatic" extends to the room itself, arranged as a 19th century salon with antique furniture and garish chandeliers, adding another layer of critique: "Each chair, every piece represents a moment that was bound by its social and cultural codes, most of which no longer apply."
The same can be said for the relationship between art and spaces, which is evolving rapidly in a city of gentrifying real estate: The installation—touted as an "art happening" rather than a premiere—takes place in a building between identities, in a neighborhood that boasts both high rents and subsidized housing.
Commercial realtor Beth Vantosh approached Santana about turning the recently-vacated Carspa into a provisional gallery as a creative way to bring attention to the 3200 sq.-foot listing and provide an unorthodox outlet for the artistic community.
"We're using space to showcase art and art to showcase space," says Vantosh, who imagines a restaurant or tech start-up as possible lessors. "This concrete box is hosting an example of thinking outside the box."